Messy Looking Polyurethane Coated Hardwood Floors
Causes of uneven shine on wood floors
Applying too much shine restoring products may ugly your floors out!
Your hardwood floors are starting to look dull, thin, worn or faded, especially in the traffic lanes and areas heavily walked on. You don't think they need to be refinished just yet. Or, maybe they do. But for one good reason or another that is not an option, not the right time, not in your budget, or just not something you want to do.
Regardless, your floors need something and you start to go on the hunt for a solution (literally!) Without scratching around too much, you happen upon a class of products which seem to offer help. Available at the local hardware stores, grocery stores or box stores, these products are lined right up with the wood cleaners, but offer a shine restoring solution. These products contain:
Acrylic
Carnuba
Wax
Polish
Shine "Restorer'
 Oil Soaps
Make no mistake, these products proudly compliment the wood floor care, "do it yourself" collection. However, overuse puts you and your floor in a cleaning conundrum!
Some is good, more is not better. And, over not too long of a time, more, and more, and more is not better!
What Starts To Happen With The Appearance
Usually the overall appearance and uniform look starts to break down. It becomes shadowy, blotchy, milky, dirty looking. Across the floor is just looks like the dickens! Or, if the area has frequently moved furniture, such as bar stools, you begin to see strange wispy- lines, almost as if they are blades of grass imprints or spider vein marks on the floor.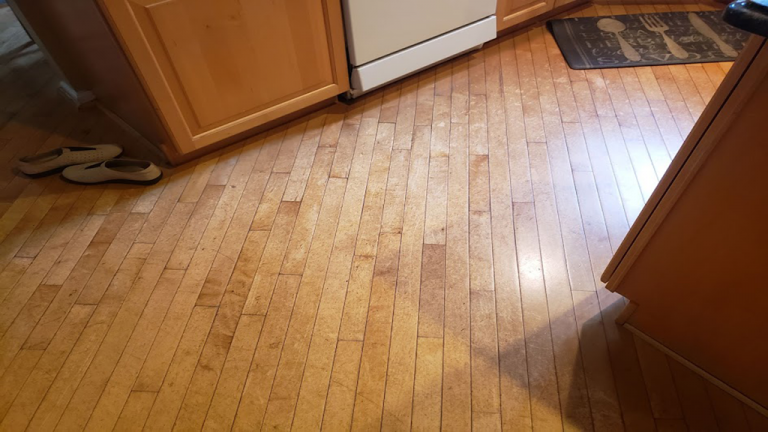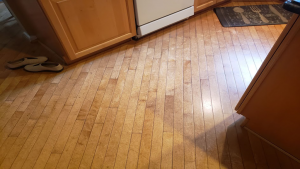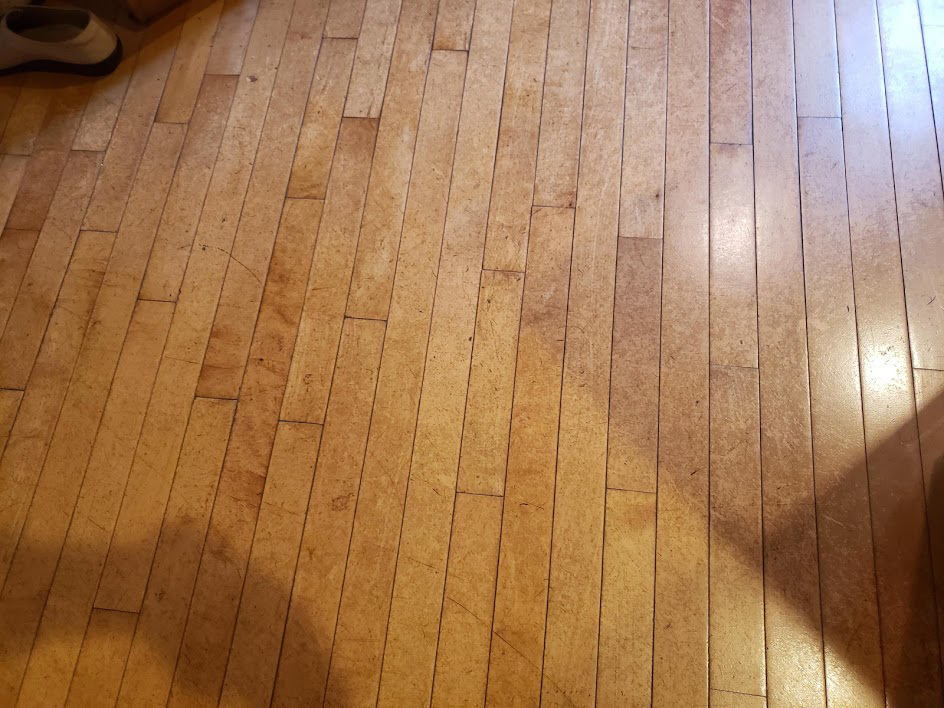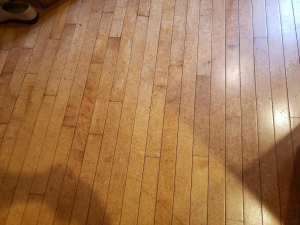 So What Do Homeowners Do When This Happens?
They reach for that very shine restoring product and put more down– and more, and more, and more! As it progresses frustration begins. Perhaps not knowing what to do the client may jump on line. Now another product may come home with the client, a stripping agent.
Next the homeowner, down on hands and knees sets about to strip, by hand the what we might refer to as a "blown topical finish." While not affecting the actual finish, it none the less is an absolute mess! And, usually since this crappy mess which obscures the overall underlying finish the client "gives up!" Cinderella and the wicked step mother will not hold this very frustrated homeowner hostage for too long– or so we hope.
Throwing Hands Up In Total Frustration
The homeowner next goes back on line to find a hardwood floor re-finisher to call. They brace for the experience, knowing they may be faced with refinishing. And, more often than not that is exactly what opinion they will get!
Stop Right There! Sanding and Refinishing May Not Be What You Need
Buckle up– there might just be an easier, much less invasive and less expensive option for you.
Study the pictures included closely, and if this uneven, milky, line riddled, scratchy, dark-light mess is what you see, other help besides complete sanding may help!
Be cautious, if the contractor flat out says nothing can be done except sanding, seek a second opinion. Next, before you invite someone out as a second opinion, ask them will they strip off a wax build up off a polyurethane floor, as opposed to "taking it all the way down." If the answer is no, move on! Call another company, and repeat the question.
Not To Be Disparaging, But An Old School Floor Guy Might Be WHO YOU NEED
With the advent of "Top Finish Floors," or floors that have a polyurethane finish, the art of stripping and waxing floors has all but gone by the way side (or so one would think!) Most guys don't strip or re-wax anymore, for the most part.
However, there are still guys who do. And, as time marches on, there will be more who do, but currently they are few and far between!
Luckily With Us, You Have Struck Liquid Gold
Our senior floor re-finisher (what a nice way to put it!,) does to Do-Si-Do with both floor finishes. Starting back way too long ago to mention, he has stripped way too many of a floor, and continues to do so—mostly more commonly for "VCT" commercial tile floors. None the less the process is mostly the same, and an easier solution for the hardwood floor buildup mess being spoken about.
Once inspected, we will offer a stripping solution in this circumstance. However, there must be a conversation and clear understanding as to what results may be revealed. We cannot restore a uniform appearance if underlying problems exist.
Why was the shine product applied in the first place? If the polyurethane finish itself is compromised, and the underlying reason it was applied was to cover up the failure, or demise, one can reason, it will again be revealed. In this case, if this is the result, the writing is not only on the wall, it is on the floor.  The homeowner with this problem does probably need  to have the floor sanded and refinished.
If however, the homeowner or cleaning staff has used little of this product, perhaps even by mistake, and the overall finish of the floor is in good shape, this client's floor may come out just fine.
Unfortunately, in some instances we, meaning the floor stripping staff and the homeowners may not know until we get started (and you may therefore and unfortunately, have to appreciate understand we cannot be held responsible for the condition of the floor, and results uncovered!)
Another concern, depending on the practice, habit and length of time the shining product has been applied, we may need 1-2, even 3 or more strippings to "right the ship," and rid the build up. Likewise, it is for this reason we cannot predict when this happens. We will have to ride it out, which becomes a billable add-on to the customer.  Please note – this will be communicated to the customer ahead of time, and priced out as an additional cost the customer will be made aware of, and signed off on for approval.
Compared To A Complete Sand and Refinish, The Homeowner and Floor May Still Stand To Benefit From The Stripping Process
Considering the alternative for a cost perspective, time line, and degree of difficulty and invasiveness,  this still may be the way to go!  And, in some cases it may be worth trying before resulting to a full sanding procedure!
To Sum It Up – Give Us A Call Before You Do Anything. Let Us Professionals, Both Old-School and New, Give You An Opinion
With us, it's always a free friendly estimate, and well worth the effort before you part with unnecessary dollars! We won't spend your money. Instead we will offer you as many helpful options as possible. Don't fall prey to contractors who 'scoff-off" the idea of stripping- they probably don't know how to do it, don't want to be bothered, don't care and or don't have your best interests at heart!
[cherry_hr indent_top="40″ indent_bottom="40″]
Take a good hard look at your floors! If you see similarities to what was described above, stripping may be the alternative for you. While not in every case, and also as mentioned, it may reveal other problems, it still may be a cost effective effort to try first! Give Wendy a call, she will set up an appointment to tell you what can be done.  Call us at (972) 905-1278 or contact us online.